Robin Friday movie to be directed by Philip John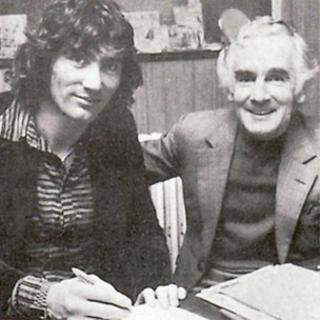 A Welsh director who has worked on blockbuster TV dramas such as Downton Abbey has been chosen for a film on the life of one of football's wildest characters.
Cardiff City and Reading cult player Robin Friday died aged just 38 but lived a life even George Best would have considered eventful.
Friday's colourful story will be told in a new film directed by Bafta-nominated Philip John.
Filming is due to start in August.
Friday (The Greatest Player You Never Saw) will be shot mostly in Wales, and the cross-Atlantic team pulling it together are currently in the middle of casting.
There has been much speculation over who will take the title role with comedian Russell Brand and Christian Bale talked about as possible candidates.
What is certain is the film will be directed by John, who has a number of high-profile UK drama and comedy credits to his name over the past 14 years.
They include Downton Abbey, Being Human, Ashes to Ashes, and Irvine Welsh and Dean Cavanagh's film Wedding Belles for Channel 4.
John, who was born in Wales and now lives in Cardiff, is said to have enjoyed some wild days himself years ago while playing bass with a punk band and running a record label.
But he is no match for Friday, whose crazy lifestyle stood out even during a 1970s football era that regularly saw behaviour often more suited to the wilder world of music than professional sport.
There are several stories of his outrageous behaviour such as the tale of him apparently turning up to training drunk while carrying a swan.
Friday only played 21 games for Cardiff before retiring from the game but his notoriety is still discussed by older fans.
His skill was also not in doubt, and former referee Clive Thomas, who had seen the world's best players of the era, maintains a goal Friday scored for Reading was better than anything he had seen from Pele or Johan Cruyff.
But Friday's life was cut short after years of drug and alcohol abuse and he died in 1990.
Those behind the film include Mike Young, a Cardiff City fan perhaps best known in Britain as the creator of children's cartoon Superted.
Mr Young is originally from Barry but now runs one of the largest independent animation studios in the USA.
Journalist and author Paolo Hewitt, who co-wrote a book about Friday's life entitled The Greatest Footballer You Never Saw, worked on the screenplay for the film with Julian Stone of Tasty Films.
It has also been backed by the Film Agency for Wales.