243 homes approved for ITV Wales Culverhouse Cross site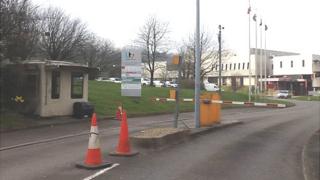 ITV Wales studios at Culverhouse Cross near Cardiff can be demolished to make way for 243 homes, councillors agreed.
Earlier proposals for the redevelopment of the site were rejected by Vale of Glamorgan councillors last year over concerns about the loss of employment from the area.
But the plans were resubmitted and approved at a meeting on Thursday.
ITV wants to relocate 100 staff to Assembly Square next door to the Senedd building, in Cardiff Bay by June.
The broadcaster appealed to the Welsh government after the plans were rejected last October, despite being recommended for approval by planning officers.
But they resubmitted the original proposals to the Vale of Glamorgan council after other businesses vacated the building.
Concerns were raised about the impact the housing development would have on traffic.
But a report to councillors said the new homes would be a "significant benefit" in providing much needed private and affordable housing in the area.
ITV has previously said the move to a new state-of-the-art building in Cardiff Bay would strengthen its presence in Wales.
But some of the other media companies based at the Culverhouse Cross site campaigned against the house building proposals.
An ITV spokesman said discussions with interested developers for the site were continuing and plans to move its operations to Cardiff Bay by the end of June were on track.
Formerly known as HTV Cymru Wales, the broadcaster was originally based in Pontcanna, Cardiff, and moved to Culverhouse Cross on the outskirts of the city in 1984.