Jeffrey Davies's colleagues sacked for gross misconduct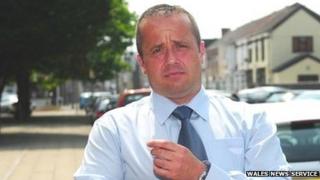 Two South Wales Police officers have been sacked after an investigation into how a colleague sexually assaulted domestic violence victims.
Family liaison officer Det Con Jeffrey Davies was jailed for three years in August for sex offences against two women in Merthyr Tydfil.
Now a police watchdog has ruled that two officers failed to properly follow up complaints from the women.
The head of South Wales Police says the two men "failed in their duties".
Det Insp Phillip Camm and Det Sgt Richard Jones were both found guilty of gross misconduct by a disciplinary hearing of South Wales Police, held at the recommendation of the Independent Police Complaints Commission (IPCC).
The IPCC said the behaviour of the two officers tarnished the good work done by other officers.
The investigation followed the conviction of 42-year-old Davies at Swansea Crown Court.
His trial was told he used his position as a family liaison officer to try to persuade victims of domestic violence to have sex with him.
When two women raised complaints, the IPCC found that they were not treated as victims of a sexual offence, and their allegations were not investigated effectively.
Emails deleted
A five-day gross misconduct hearing was told complaints made against Davies were sent to Mr Jones but he failed to refer them to the force's professional standards department.
The investigation also uncovered a series of "inappropriate" emails and documents on Mr Jones's computer - a number of which were of a sexual nature.
One included derogatory references to one of the complainants, along with comments by him that her allegations were "scurrilous".
Mr Jones later deleted the documents from his work computer when he became aware the IPCC was investigating.
The hearing was told Mr Camm failed to challenge Mr Jones's behaviour and lied to the IPCC during an interview.
A third officer, an inspector, was dealt with internally by South Wales Police for taking too long to deal with one of the women's complaints.
IPCC commissioner Jan Williams said the "vulnerable" women were subjected to an appalling abuse of trust.
"Their dreadful experience was then further compounded by the inactions of Jeffrey Davies's supervisors who failed to deal properly with the criminal allegations against him," she said.
'Lack of empathy'
"It is only right that these officers have been dismissed.
"Their failure to challenge inappropriate behaviour strikes at the heart of confidence in policing and tarnishes the good work done by officers every day," she added.
Ms Williams also condemned the "inappropriate" language used in documents on Mr Jones's computer.
They showed a "total lack of empathy and respect for a victim who had shown real courage to report an allegation", she said.
South Wales Police Chief Constable Peter Vaughan said staff were shocked and let down by the officers' behaviour.
"Let us be in no doubt, we owe the women affected a sincere apology as the conduct of these officers fell well short of the standards I expect from South Wales Police," he said.
He said thousands of emails had since been examined to see if "offensive" language was more common, but said the vast majority of the force's 5,000 officers knew such behaviour would not be tolerated.
Jeffrey Davies was convicted in August 2013 for sexual assaults against two women, which happened in 2010.
He was cleared of a further offence of exposure against another woman.