Historic watchtower up for sale at Cold Knap, Barry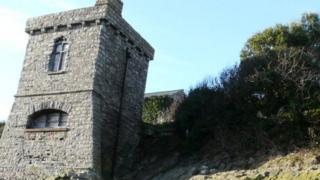 It might not be quite what Bob Dylan or Jimi Hendrix had in mind in their song... but a 19th Century watchtower at Vale of Glamorgan could provide a bargain.
The turret stands on the foreshore at Watchtower Bay at Cold Knap in Barry.
Auctioneer Paul Fosh believes the old coastguard station could provide 21st Century inspiration.
With a nominal guide price of £1,000, he is convinced the tower will be snapped up at auction on 27 March.
The Grade-2 listed two-story tower, built in about 1860 as a coastguard station and partly constructed into the cliff embankment, is being sold for current owners, the Vale of Glamorgan council.
"It was thought that the watchtower was no longer required when the larger Barry Docks was developed," said the auctioneer.
Inspirational
"We've certainly sold a whole range of unusual buildings over the years but this is something a little bit special.
"The watchtower, which is based within the Barry Marine Conservation Area, has a boat entry at the ground level which is secured by a roller shutter."
There is no land with the property, and Mr Fosh said it was not known whether the building had electricity or running water connected, but he said it would make an ideal bolthole for someone artistic.
"Standing on the foreshore and looking over the bay, it really is an amazing spot for anyone seeking artistic inspiration."
"I would think that the watchtower would appeal perhaps to an artist, painter or even perhaps a poet, after all Dylan Thomas had his boathouse bolt hole at Laugharne which isn't that far down the coast from Barry, where he wrote some of his best loved and world famous poetry."