Babysitter who shook baby causing brain bleed jailed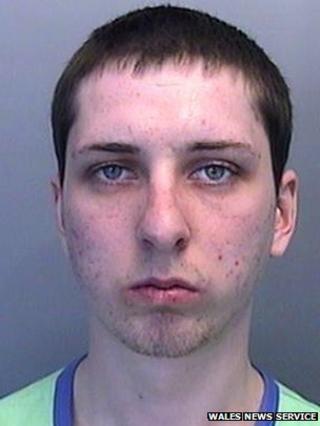 A babysitter who shook a baby so hard the infant suffered a brain haemorrhage has been jailed by Cardiff Crown Court.
Anthony Richards, 21, of Hirwaun, Rhondda Cynon Taf, was taking care of the seven-month-old while the boy's mother was away.
The court heard he could not cope with the demands of child care and shook the child so hard that the baby started having convulsions.
Richards was jailed for two years and nine months for grievous bodily harm.
He was also found guilty of child cruelty.
The court was told Richards claimed the baby had hurt himself on a toy.
Richards was looking after the child after his mother was called away to Scotland for family reasons.
After the child started having a seizure, he called emergency services and was told to give the baby CPR until an ambulance arrived.
He denied injuring the child, but doctors said the only way his injuries could have been caused was by blows to the head and violent shaking.
'Vulnerable'
The baby, who cannot be named, is still recovering from his injuries and his condition continues to be monitored.
Judge Christopher Llewellyn-Jones QC told him: "No court can overlook this type of treatment to a young child.
"You were there with the [responsibility for the] care of a small and vulnerable child and to do that to such a child is very serious."
"You shook the baby boy and a haemorrhage occurred - quite what the consequences of that are going to be for the child we still don't know."
Jayne Rowley, defending, said: "It seems an immaturity and inability to cope with the unexpected pressures of caring for a child led to this.
"He is ordinarily a loving and caring person but he fell far short the behaviour expected of him."