Llandaff Cathedral marks £1.5m organ work with recital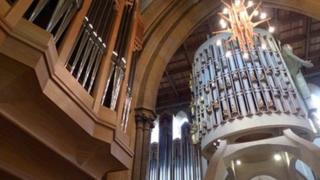 The end of six year's work to replace Llandaff Cathedral's organ has been marked with a free recital.
With 4,870 pipes ranging in height from 26ft (7.9m) to the size of a pencil, it is the largest pipe organ built in the UK for more than 40 years.
The St David's Day concert by Huw Tregelles Williams included music by JS Bach and Welsh composer Karl Jenkins.
An appeal to fund the £1.5m organ was launched after a lightning strike in 2007 finished off its predecessor.
The Church in Wales said the organ was the largest commissioned for a British cathedral since 1962 when one was built for Coventry Cathedral.
A spokesperson said the instrument was one of the finest in Europe.
"This is a wonderful and historical event when we will be able to experience the unique and majestic sound of the organ of Llandaff Cathedral.
"We are very grateful to Huw Tregelles Williams and, of course, to all those who contributed to the appeal and worked tirelessly to ensure its success.
"This new organ is a remarkable instrument which will be an asset not just for the cathedral but for the wider music community of Cardiff and, indeed, the whole of the UK."
The cathedral's previous organ was damaged by the blast from a German land mine during World War Two and was finally put out of action by the 2007 lightning strike.
The new organ was first played in April 2010 while the appeal to fund its completion continued.