Merthyr town hall receives £8m new lease of life as arts centre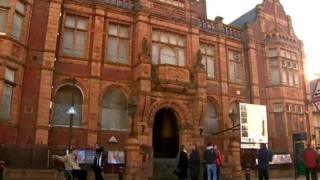 A Victorian landmark which took more than two years and £8m to restore has reopened to the public.
Merthyr Tydfil town hall, opened in 1896, has been given a new lease of life as an arts and creative industries centre.
The distinctive terracotta building, which took 35 years to build, was closed in 2000 and fell into disrepair.
But it has already been given the royal seal of approval by Prince Charles who visited on Friday.
The new centre includes a cafe, gallery, recording and dance studios, computer room, workshops and a performance area which has a glass dome over the 19th Century courtyard.
It was officially opened on Saturday by Hinterland star Richard Harrington.
Karen Dusgate, chief executive of Merthyr Tydfil Housing Association, who led the restoration project, said: "Sadly, over more than a decade, when it became empty it became very derelict and damaged from the weather, pigeons and vandalism, resulting in quite a bit of work for us to restore it to its new use."
Ms Dusgate said the new centre, called the Red House, is striking.
"As you walk through the main doors you cross over a dragon mosaic and you pass through Dalton tiles... and then you face the imperial staircase and a beautiful stained glass window commemorating the Diamond Jubilee of Queen Victoria.
"It creates a real promenade that welcomes you and the layout inside enables people to move around in a very open way."
Ms Dusgate also said the royal visit by Prince Charles was a success.
"He thought it was wonderful," she said.
"He was very, very impressed with how we were able to restore the period features, but also how we were able to integrate the modern technology and the facilities that enable to it to be the cultural and creative industry centre."