Coroner's sorrow at Valerie and Mavis Green inquest findings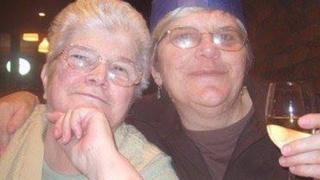 A coroner has expressed his sorrow after failing to determine the exact circumstances surrounding the deaths of a mother and daughter.
Valerie, 60, and frail Mavis Green, 83, were found dead at their home in Bryntirion, Bridgend, on 16 August, Aberdare coroner's court heard
Their family became concerned after the pair had not been heard from in a week.
Mavis had died of a pulmonary embolism and her daughter suffered kidney failure, the inquest heard.
Valerie Green had been dead for about three or four days when her son, Simon, arrived at her flat.
His grandmother was also dead - and both were in their beds.
South Wales Police detective Rebecca Merchant said officers found no evidence of any third-party involvement and fire officials had not found any traces of carbon monoxide.
She added police did find scores of empty pill packets throughout the flat, but pathologist Rick James said forensic tests revealed only small traces of the painkiller ibuprofen in Valerie's bloodstream.
He added this could have been because the drug had passed through her system by the time her body was discovered.
A post-mortem examination found Mavis's embolism was brought on by deep vein thrombosis.
Dr James did consider the possibility hospital volunteer Valerie had taken an overdose in her grief, but said he could not say for certain what had happened.
'Extreme stress'
"I am unsure as to what exactly caused this renal failure," he said.
"The circumstances fit with an overdose but I cannot confirm this because of the toxicology findings."
The pathologist said it was possible "extreme stress" - such as finding a loved one dead - could lead to a rapid deterioration in someone's health.
However, he was more certain the deaths had occurred around two days of one another and that bedridden Mavis had not died from neglect.
The inquest was also told Valerie's wheelchair-user son Simon usually saw his mother every day.
But around the time of her death he had been unable to get out and about because of an operation on his hand which prevented him from using his wheelchair.
After recording an open conclusion, coroner Andrew Barkley offered his condolences to the family.
"We have heard that empty blister packets (of ibuprofen) were found in the flat but I do not know when they were used, who used them or how many," he said.
"There are many questions which cannot be answered. There are many theories but nothing concrete given the circumstances.
"Please accept my condolences.... this must have been very upsetting for you," the coroner said.