Bench railings at Porthcawl beach installed for 'safety'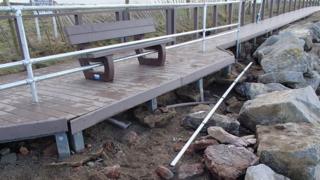 Visitors to a south Wales beach have been left baffled by the installation of railings around a seafront bench.
The new safety rail prevents people sitting on the bench on the coastal path between Pink Bay and Rest Bay in Porthcawl.
Dozens of people have shared pictures of the railings on social media sites questioning their position.
Bridgend council said they were installed to stop people using the path after it was damaged by recent storms.
The path was closed earlier this year after large parts of it were ripped apart or weakened by the severe weather.
'Unstable'
Signs are in place warning people not to use the path because parts of it were unsafe and a gate at the Porthcawl end has been locked.
But it can still be accessed from the beach.
A spokesman for the council said the railings were installed for public safety.
"The positioning of this safety rail obviously looks unusual, but it was to try and stop people from sitting on the bench, and walking in front of it too, as this is an area of the path that is particularly unstable and likely to collapse, causing further damage," he said.
"As some people are still walking on the path even though it is closed, we will either remove or relocate the bench to a more stable area until work can begin on repairing and reopening the path.
"We would like to reiterate that the coastal path should not be used until funding can be secured for it to be repaired," the spokesman added.