Monmouthshire and Brecon Canal storm repairs cost £1m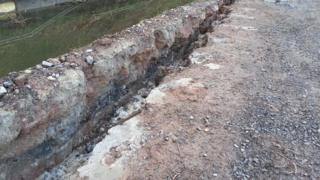 A section of the Monmouthshire and Brecon Canal damaged in the recent storms will be closed for nine weeks while £1m repair works are completed.
Torrential rain has caused a 400ft (125m) stretch of the 200-year-old embankment to collapse between Govilon and Llanfoist.
Glandŵr Cymru has been working to stabilise the embankment and secure the canal for the past two weeks.
A diversion will be put in place while the work is carried out.
The repairs being carried out by Glandŵr Cymru, the Canal and River Trust in Wales, include using 500 32ft (10m) long pins to 'nail' the embankment to bedrock.
Trees have been removed from the canal bank to prepare for the works, which started on Monday, and are expected to be completed by the end of April.
Vince Moran, operations director at Glandŵr Cymru, said the slippage was first noticed in late December but the wettest winter on record has just made the damage worse.
"While we took immediate action, draining the canal and taking daily measurements, the continued rain has meant the embankment has got wetter and heavier," he said.
"As a consequence it has continued to slip down the side of the hill, causing the crack along the towpath at the top of the embankment to lengthen and widen, and a large section to drop by several metres."
Fundraising appeal
Mr Moran said the canal was a key to the local economy and the trust was talking to boating businesses and residents about the need for the work and its impact.
"We are determined to get the repairs done properly and to open this section of the canal again as soon as possible," he said.
"We should stress that the canal either side of this short section remains open, and I'd encourage people to continue visiting by foot, bike and boat, as they do in their droves each year."
The repair work in Wales, as well as the clean-up operation across waterways elsewhere, is being supported by a national fundraising appeal.