Jamie Curtis jailed for life for carer Kevin Hier murder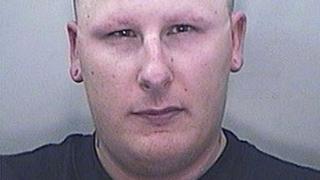 A jealous boyfriend has been jailed for life after using his girlfriend's mobile phone to lure another man to his death.
Jamie Curtis, from Ynysawdre, Bridgend, stabbed Kevin Hier, 50, in the neck in front of three children last October.
He had discovered partner Lorraine Davies was leaving him for Mr Hier, from Tondu, so sent him bogus texts from her phone suggesting they meet.
Curtis, 26, pleaded guilty at Cardiff Crown Court on Monday.
Headlock
Posing as Miss Davies, the defendant sent a text to Mr Hier, which read: "Come get me."
But Mr Hier, who was a carer for his mother, was met by Curtis in a dark lane, carrying a kitchen knife.
The children playing nearby watched in horror as Curtis grabbed Mr Hier "in a headlock" to stab him in the neck.
Curtis dragged Mr Hier to his mother's house and dumped his bleeding body on the doorstep.
"This is what you do if someone messes with your girlfriend - you stab them," Curtis told the children, the court heard.
The children told police that Curtis punched Mr Hier and "slashed" at him with a knife before putting him a headlock and stabbing him in the neck.
Mr Hier's mother, Ailwen, 77, also witnessed the murder.
Curtis ran off and threw the kitchen knife into a river before returning to the crime scene where a crowd had gathered.
When he was arrested by police, Curtis said: "That is my girlfriend's boyfriend. I haven't been out of the house and I haven't beaten anyone up."
Gregg Taylor QC, prosecuting, said: "Curtis was living with Miss Davies and regarded himself as her partner - but she had been seeing Mr Hier for some months."
He said Miss Davies was asleep when Curtis used her phone.
The court heard Curtis was obsessed with knives and weapons, had previous convictions for carrying knives in public and was on bail at the time of the murder after being sentenced to three months in prison for possession of a firearm without a licence.
'Gentle giant'
Judge Eleri Rees said: "You became extremely jealous of the relationship between Miss Davies and Mr Hier and had discovered she had chosen him over you.
"On the day of the murder you sent repeated messages to him.
"You were masquerading as Miss Davies in order to lure him to meet you - when she was in fact asleep in her house.
"What is clear is that you lured Mr Hier to the scene to stab him with a knife."
Curtis was jailed for a minimum of 23 years.
"No sentence will ever begin to compensate Kevin's family for their sudden and devastating loss," said Det Ch Insp Simon Davies.
"By pleading guilty, Curtis has accepted responsibility for his actions and he has now received a life sentence meaning he will spend many years behind bars for what he has done.
"The thoughts of everyone associated with this investigation are with Kevin's family, the witnesses to this terrible crime and the community of Ynysawdre which was left stunned by what was a shocking but rare incident."
Mr Hier was a carer for his mother and following his death his family paid tribute to him as a "gentle giant" who would "go out of his way to help anyone who asked".