'Neets' solution could lie in tackling bad behaviour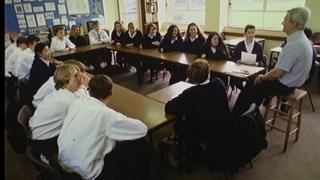 A softer approach to tackling bad behaviour in schools could help reduce the number of young people not in education, work or training (Neets), it has been claimed.
The so-called "restorative approach" encourages pupils to talk about why they misbehave instead of excluding them.
This has resulted in a 91% drop in the number of exclusions at one Monmouth school.
Teachers said it changes attitudes.
The scheme, being trialled in a number of Welsh secondary schools, has also resulted in a reduction in crime in some areas.
At Fitzalan High School in Cardiff the approach has resulted in a significant drop in the number of days lost to pupil exclusions - which fell from 1,000 three years ago to 112 days this year.
Teacher Jane Holland Lloyd said the initiative helped pupils feel more involved.
"Before we introduced restorative approaches we had very strict process and systems in place," she said.
"If a child did a certain thing they would be potentially excluded and then they would come back and do the same thing again.
"With the restorative approach, they stopped and became part of the solution - they understood what the problem was.
"That's what caused changes in behaviours," she added.
Teachers hope that by keeping pupils in schools and helping them through problems that lead to bad behaviour, fewer will fall through the gap between school and employment.
The most recent figures show that 22% of 16 to 24-year-olds in Wales are unemployed. Of these, 11,000 16 to 18-year-olds are not in work or training.
Three years after the scheme was introduced at Monmouth Comprehensive School exclusions for bad behaviour are down by 91%.
Referrals to youth offending teams are also down 78% and the crime rate in the area is down 48%.
Gwent Police and Crime Commissioner Ian Johnston agreed the initiative was helping to reduce crime.
"If you are excluded from school what are you going to do? You get into the wrong company and then you start doing the wrong things and then you feel isolated from society and so it goes on," he said.
"They stand a better chance if they are coming out of school with the right attitude and without any offending behaviour, and that's what this project is all about," he added.
Mr Johnston is now talking to councils in the Gwent force area about extending the project.