School merger plan for Fairwater and Llantarnam schools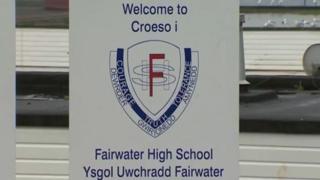 Two Cwmbran secondary schools could merge under plans to reduce the number of surplus spaces in the county.
Torfaen council wants to close Fairwater High School and Llantarnam School from September 2015 and create a revamped school on the Fairwater site.
The proposals are also part of the local authority's response to the Welsh government's 21st Century Schools Programme.
Parents and staff of the schools have been invited to give their views.
Torfaen council said merging the schools would help tackle the issue of surplus places, in line with Welsh government targets of no more than 15%.
Pupil numbers at both schools have fallen steadily over the past four years and currently stand at 1,003 at Llantarnam and 720 at Fairwater.
This is expected to drop further by 2018 to 720 at Llantarnam and 422 at Fairwater.
The quality of buildings at both schools is also judged to be "poor".
The council plans to relocate all students to Fairwater High School and wants to spend £6m on refurbishment work there between 2015 and 2017.
Leisure centre
The council said some staff redundancies were likely, but it was not sure how many at this stage.
It is also unclear what would happen to the leisure centre attached to Llantarnam School.
It could close with the school, be taken over by a leisure trust or be run by the community, the council said.
If the plans are passed, the number of secondary schools in Cwmbran would be reduced from three to two, with catchment areas reviewed.
Pupils living closest to the town's other secondary school, Croesyceiliog, would be given the option to attend there from 2015.
A consultation on the plans runs until 31 March and the council said it would take all views into account before a decision was made.