Voyeurism teacher: Pupils allegedly filmed at school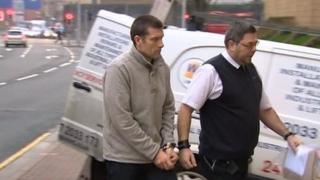 Children have allegedly been secretly filmed at a Cardiff school whose deputy head teacher has admitted filming children using a toilet elsewhere.
Parents of some pupils at Ysgol Gyfun Glantaf are seeking legal advice.
Police have been carrying out further investigations at the school as Gareth Williams awaits sentence.
A letter from head teacher Alun Davies told parents the school would "continue to co-operate with the authorities and assist them in every way they can".
Mr Davies said the deputy head remained suspended while the investigation continues.
Sources have told BBC Wales that teachers, parents and children have been spoken to by police about alleged secret filming at the school.
Phillip Gower, a partner at Simpson Millar Solicitors in Cardiff, said he would look into the matter after being contacted by a "number" of concerned parents whose children go to the school in Llandaff North.
He said: "Parents have been in touch about concerns they have about the ongoing police investigation - parents don't know what's happening and it's part of the worry and concern.
"From our point of view it's very early days. There is an ongoing criminal investigation and we are all going to have and wait and see.
"They said they are anxious about the outstanding police investigation - their main concern is to know whether the children have been involved. "
Last month suspended deputy head teacher Gareth Williams, of Rhiwbina, pleaded guilty to three charges of voyeurism at a separate location.
Cardiff Crown Court heard last week that Mr Williams had used a secret camera to film five children using a toilet which was not in the school.
Police recovered the camera and memory sticks containing video files and found images had been stored.
He will be sentenced on 21 February at Cardiff Crown Court on the three charges.
The court was told police were still investigating and Williams would be interviewed again.
A spokeswoman for Cardiff council said: "There is an ongoing police investigation and we are, therefore, unable to comment."