Cardiff Newsagent Three: Murder miscarriage report questions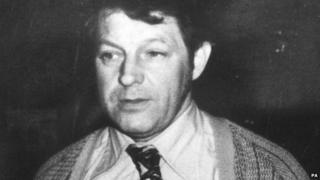 An MP has asked why police are taking so long to publish a report into a murder and miscarriage of justice.
Three men from Cardiff spent a decade in jail after being wrongly convicted of killing newsagent Phillip Saunders in 1987.
The force says it will publish its findings in "as much detail as possible".
Elfyn Llwyd, who sits on the Commons Justice Select Committee, says it is taking too long to publish the report.
South Wales Police is reviewing the original investigation as part of an inquiry known as Operation Resolute.
The report was ordered after one of the men wrongly convicted of murder claimed evidence was fabricated by a South Wales Police officer.
It led the Independent Police Complaints Commission to set-up Operation Resolute in 2010.
Because the events pre-date the establishment of the IPCC, it was only able to 'supervise' the Operation Resolute investigation and it does not have the power to publish the findings.
That power lies with South Wales Police.
But Mr Llwyd, a member of the Commons Justice Select Committee, says the process is taking too long.
"How long will this take? It's already taken nearly four years," he stated.
"And how deeply redacted will it be? I've seen documents redacted to a ridiculous extent.
"If they're redacted beyond common sense then that's no disclosure whatever and we're back to square one.
"There's an old saying that justice delayed is justice denied.
"I think they should hurry up, publish it, make it available, and hopefully start to restore people's confidence and respect for South Wales Police."
Request rejected
Last October, BBC Wales asked the force to see a copy of the Operation Resolute draft report.
On Monday, South Wales Police refused the request.
However, it says 'it remains our intention to publish this report in as much detail as possible'.
In its response to the BBC's request for the draft report South Wales Police said the public interest in disclosing the report was outweighed by the risk of parts of it undermining attempts to catch Phillip Saunders's killer and prejudicing a future trial "however unlikely a prosecution may seem".
It also said that the report contains sensitive personal data.
But on Thursday night, South Wales Police Chief Constable Peter Vaughan told BBC Wales: "I have spoken with the Police and Crime Commissioner [Alun Michael] about the publication of this report and agree with him that it is essential there is transparency in the way we approach publication.
"Of course we have to respect the legal framework within which the report was prepared and ensure that everyone named or involved is treated fairly, but we also have to be mindful of the public interest in this case.
"South Wales Police prides itself on being an open and transparent organisation and it remains our intention to publish this report in as much detail as possible."
Mr Michael told BBC Radio Wales on Friday: "Where we stand is that everything that can be published will be published."
Phillip Saunders died after being hit over the head and robbed outside his home in the Canton area of Cardiff in October 1987.
He was a newsagent in the city centre and he had just got home with his day's takings.
Three men - Michael O'Brien who was then 20, and Ellis Sherwood and Darren Hall who were 19 - were convicted of his murder in 1988.
They spent eleven years in prison until their convictions were overturned by the Court of Appeal.
A key part of the original prosecution related to Darren Hall's confession which also implicated Michael O'Brien and Ellis Sherwood.
But the appeal court heard that Mr Hall's confession was unreliable because he suffered from a personality disorder.
Investigation questions
Serious questions were also raised in court about the conduct of South Wales Police officers during the investigation, including allegations the men were treated badly during interrogations and denied access to lawyers.
Michael O'Brien has always insisted the prosecution was malicious and claimed that evidence was fabricated by a South Wales police officer, Stuart Lewis, who is now retired.
At the trial, Mr Lewis produced what he said was a transcript of a conversation he overheard Michael O'Brien having in the cells with Ellis Sherwood that effectively amounted to a confession.
In 2012, the Crown Prosecution Service decided that the evidence goes "nowhere near providing a realistic prospect of conviction" against Stuart Lewis.
In November last year the Lord Chief Justice Lord Thomas decided that decision was 'reasonable and correct'.
South Wales Police has always insisted that all officers on the investigation acted in good faith.
Michael O'Brien says he will not take any further legal action against South Wales Police or Stuart Lewis.
He does however feel that the Operation Resolute report should be published.
"I think the report should be in the public domain because there's got to be transparency and if the police want to rebuild confidence then they have to be seen to do the right thing.
"I think by releasing this report it will go some way to doing that and I think that's very important for public confidence.
"I think it's time for me to move on and I think if they do this that'll be closure and I'm going to move on.
"I don't want people thinking that I'm this evil person who would go out and kill someone because that isn't me.
"And I think in the healing process between me and South Wales Police, reconciliation is important to me as well because I've always believed in the police before all this happened.
"I don't believe all police officers are bad at all.
"In any organisation you're going to get people who do things and all I ever wanted was accountability, not to just vilify South Wales Police for the sake of vilifying them."