Airport shuttle sustainable if air passengers increase, review concludes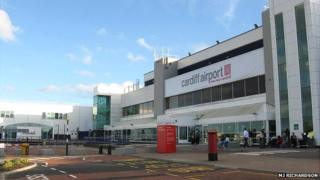 The Cardiff airport shuttle service is sustainable, as long as air passenger numbers increase as forecast, a report for Welsh ministers has concluded.
Prof Stuart Cole from the University of South Wales was asked to review the bus service that was introduced in April.
He says eight passengers per journey are needed to make a profit, but the average is currently less than four.
Welsh ministers said they were considering the report while the Tories said it raised "serious questions".
Funded by the Welsh government at a cost of £242,691 so far, the bus runs every 20 minutes from the airport at Rhoose, in the Vale of Glamorgan, to the centre of Cardiff.
Prof Cole's review estimates the subsidy per passenger has been £7.32 so far, but says that should fall in the summer.
It also suggests cutting the number of journeys at the start and end of the day when demand is lower.
Welsh Conservative leader and South Wales Central AM Andrew RT Davies said: "Mr Cole himself admits that this is a high subsidy for a service of its type, but the fact that it has already cost the taxpayer almost a quarter of a million pounds in just four months is worrying.
"What concerns me most of all is that Mr Cole's report reveals that almost no strategy was put in place to ensure that the route would be a success.
"There were no targets set for passenger numbers and, worst of all, there was no marketing and development strategy because it was rushed so quickly into service.
'Fast and frequent'
The airport was bought by the Welsh government for £52m last March and the bus service is part of the strategy to reverse a slump in passenger numbers.
Announcing the release of the report, Economy and Transport Minister Edwina Hart said Prof Cole had "made a number of short term and longer term recommendations" on how to improve the service.
"I am now considering the review's findings and will update [assembly] members in due course," she said.
Mrs Hart said the review "identifies that the objectives for a fast and frequent service between the city centre and the airport have been met".
She added that the report "also confirms that reliability and punctuality has been and remains good, and that the service has very quickly established a high profile and strong identity".