Police at Cardiff school of voyeurism teacher Gareth Williams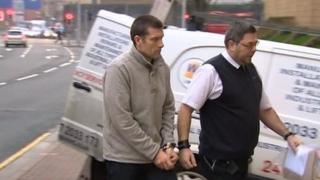 Police are carrying out investigations at a school whose deputy head teacher has already admitted hiding a camera to film children in a toilet in offences which took place elsewhere.
Parents at Ysgol Glantaf in Cardiff have been told that South Wales Police have been given access to the school.
A letter was sent to them on Thursday, six days after Gareth Williams pleaded guilty to three charges of voyeurism.
In it, the head teacher said it was "extremely concerning for everyone".
Williams, 47, was remanded in custody last Friday after appearing at Cardiff Magistrates' Court. He is due to be sentenced later this month.
The court heard last week that he had a camera to film five children using a toilet. Police recovered the camera, memory sticks containing video files and found images had been stored.
Those offences did not take place at the Welsh language school in the Llandaff North area of the city.
The court was told that police were still investigating and Williams would be interviewed again.
The letter from head teacher Alun Davies says: "Dear Parent, As you know I am anxious to keep you updated, within the constraints of the ongoing police investigation, about the situation regarding the deputy head teacher Gareth Williams.
'Suspended'
"As you are aware Mr Williams pleaded guilty to the criminal charges brought against him at Cardiff Magistrates' Court last week. He has been remanded in custody and is due to be sentenced at the crown court on February 21.
"I know that there is speculation that further charges will follow and the court heard this was a possibility.
"However, as the police investigation is still continuing and legal proceedings are active, I am unable to comment or speculate on what, if any, these further charges may or may not be.
"We understand this is extremely concerning for everyone involved with the school and we will endeavour to provide information at every appropriate opportunity.
"South Wales Police officers have been given full access to the school to carry out their investigations.
"We continue to co-operate with the authorities and assist them in every way that we can with their enquiries.
"Mr Williams remains suspended from school while the investigation continues.
"We will continue to keep you updated, however, we ask for your appreciation that this is still an ongoing police investigation, so information may be limited at certain times.
"Your co-operation and support so far in relation to this matter is gratefully appreciated."
When Williams appeared in court, District Judge Bodfan Jenkins said the offences were so serious he would be remanded and sentenced at Cardiff Crown Court on 21 February.