Cardiff Airport shuttle bus averages four passengers a journey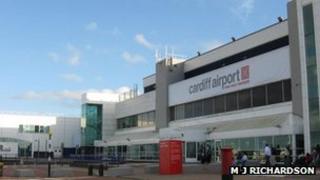 A shuttle bus to transport passengers from Cardiff to the airport has carried on average fewer than four passengers a journey since its launch, figures show.
Funded by the Welsh government, the bus has carried on average 2,778 passengers a week since August.
It runs every 20 minutes from the airport at Rhoose to the centre of Cardiff.
Last month the Conservatives said the service was "unsustainable".
The figures for the shuttle bus were released by the Welsh government on its Freedom of Information (FOI) log.
A review of the service has been carried out by Prof Stuart Cole from the University of South Wales.
Previously, the Welsh government said it was always intended to carry out the review to see whether changes were needed,
The airport was bought by the Welsh government for £52m last March and the bus service is part of the strategy to reverse a slump in passenger numbers.
Last month Welsh Conservative leader and South Wales Central AM Andrew RT Davies described the service as a "publicly funded ghost train" .
"As a local resident I regularly see this bus invariably empty, except for the driver.
"At almost half a million (pounds) in Welsh Labour government subsidy, that's an exceptionally expensive service to support and on current passenger numbers is simply unsustainable," he said.
'Strong identity'
In a statement, on Thursday, Economy and Transport Minister Edwina Hart said she had now received Prof Cole's report.
"Professor Cole has made a number of short term and longer term recommendations on how we can improve the service," she said.
"I am now considering the review's findings and will update (assembly) members in due course."
Mrs Hart said the review "identifies that the objectives for a fast and frequent service between the city centre and the airport have been met".
She added that the report "also confirms that reliability and punctuality has been and remains good, and that the service has very quickly established a high profile and strong identity".