Nicole Reyes from Cardiff speaks out from Caribbean jail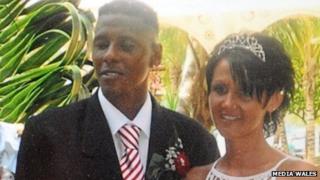 A Cardiff woman jailed for 12 years for killing her husband in a road crash in the Dominican Republic said she planned to appeal.
In a telephone interview from prison, Nicole Reyes, 37, of Rumney, said she was "gobsmacked" at being convicted for killing Jorge Quintanilla Reyes.
The 38-year-old was knocked off his motorbike by Reyes, but she has always maintained it was an accident.
Her family claimed she had been the victim of a miscarriage of justice.
Reyes, who was convicted of voluntary manslaughter, told BBC reporter Mark Hutchings: "I cannot be punished for something I did not do."
Reyes, who has spent more than 18 months on remand, claimed she accidentally hit her husband with her Toyota SUV as he rode beside her on his motorcycle.
She said she swerved to avoid an oncoming car after a night out in July 2012.
She had moved to the Caribbean in 2004 with her two children, Leah and Luke, and her mother and father.
It was there that she met and married the former coconut seller, and found work as a rep with a holiday travel company.
'In Shock'
Her parents and children moved back to Wales in 2007 but Reyes stayed on the island with her husband.
She told BBC Wales she was "in shock". She said the hardest part had been "having to tell my daughter that I'm not coming home just yet... and listening to her cry".
Asked why she would be a victim of a miscarriage of justice, she said: "I know and I accept when you do something wrong you have to take the punishment.
"I would never put my family through all of this, and the publicity and the media and everything, should I have thought 'oh yeah I'm going to kill my husband' and I killed him, because I would know that I have to be punished.
"But I cannot be punished for something that I did not do."