Caldicot school field supermarket plan approved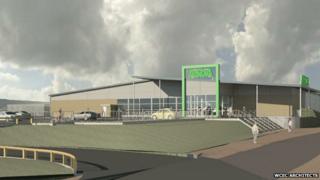 Long-awaited plans to build a supermarket on a school playing field in Monmouthshire have been approved.
The 2,945 square metre (31,700 square feet) Asda store will be built on land which forms part of Caldicot Comprehensive School's games fields.
A report to councillors said a larger food store for Caldicot would attract people to the town and help claw back money being lost to other areas.
Sport Wales said alternative sports facilities should be provided.
Monmouthshire council's head of planning George Ashworth said the decision won unanimous backing from the planning committee.
"It's a very good day for Caldicot," he added.
The council has been trying to attract a supermarket chain to the town for more than six years in a bid to regenerate the area.
But the plans have previously come under fire from residents who wanted an alternative site, closer to the town centre, to be developed.
Now approved, a new food store with a 212-space car park will be built on 1.6 hectares (4 acres) of land currently used as a school field.
A new relief road will be built around the site to allow access to the supermarket and footpaths will also be improved to link the store with shops in the town centre.
Traffic fears
The school playing field that will be lost due to the development will be replaced by a multi-use games area and a new artificial pitch.
That proposal was supported by Sport Wales, which had objected to earlier plans over concerns about the loss of facilities.
Some neighbours had complained there would be increased traffic and noise as a result of the new supermarket.
Food chain Waitrose, which has a shop in the town centre, said the scheme needed to be designed in a way which would encourage linked trips to the main high street.
The report said the plans go against Welsh government planning advice, which says retail outlets should be built in town centres where possible.
But it said the new store would substantially reduce the amount of money being lost to other supermarkets outside Caldicot, and there was no suitable alternative site.