Newport police vehicle attacked at railway station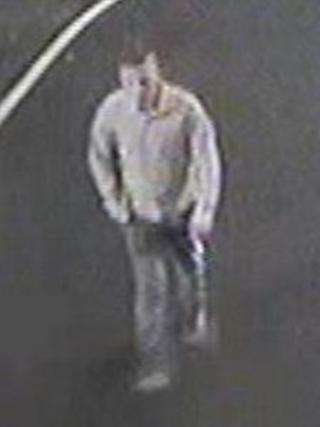 A police vehicle has been smashed up in what officers say was a targeted attack leaving £2,600 worth of damage.
The marked Nissan Pathfinder was parked in a police bay at Newport railway station early on Sunday, 12 January.
The attack captured on CCTV was "prolonged" as a crowd control barrier was used to smash a window and damage a door and wing mirror.
British Transport Police officers have released an image of a man they want to speak to about the attack.
PC Craig Farrell, who is investigating the incident, said: "At around 12.50am, a man approached the vehicle and picked up a metal crowd control barrier which he used to repeatedly strike the passenger side of the car.
"Once the alarm was activated he ran off, only to return a few moments later and continue the attack.
"The vehicle received extensive damage to the passenger side door and wing mirror, while the rear passenger side window was also smashed. The total cost of the damage has been put at £2,609."
Anyone with information is asked to contact British Transport Police on 0800 40 50 40.