Missing Nida Naseer was depressed before disappearance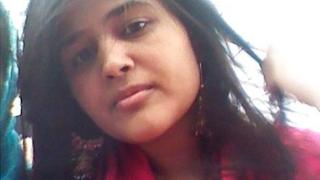 Missing teenager Nida Naseer was deeply depressed for two years before disappearing, her family has said.
The Pakistan-born 19-year-old from Pill, Newport, was also jealous of a friend who had been granted asylum and allowed to attend university, they told BBC 5Live.
Nida's family had been refused asylum which meant Nida was not able to attend university.
The sixth-form student disappeared on 28 December last year.
On Monday, her emotional family told for the first time how upset Nida had been about her friend.
Her sister Shamyla Naseer said: "We recently went to her house, she recently got status, she got a really good house and she (Nida) become a little bit jealous when we came to our home and she was talking about uni and her career.
"She was really upset and it make her more upset."
She said that Nida had been jealous of the opportunity her friend had been given and her family believed this was the reason for her disappearance.
"I think that was the reason (why she left), she was really upset about uni," said Ms Naseer.
Ms Naseer said she believed Nida could have been so distressed, it was possible she left without her shoes and personal belongings.
"For two years she was on that depression then you can't even think about your shoes, you can't even think about your dress you can't think about anything, you can't think about you family, you only think about what you really want," she said.
Nida's mother Najma Tahir, speaking through an interpreter, said: "She used to love us, she used to take care of us, always, always she take care of us."
Mrs Tahir said her daughter did not have any friends.
"She would never meet anybody so I really don't know where she's gone," she said.
"She used to talk about it [university]. She used to say you never let me get admission to the university."
Her mother said Nida had blamed her family for failing to achieve asylum status.
"She wanted to move, she wanted to grow, she was very intelligent. She used to say, I want to study. I want to be something," said Mrs Tahir.
"It was a problem for her. She used to say I am not studying and my friends are are going to different classes, they are studying and I am not doing, I am left behind."
The family has said they are appealing the decision not to grant them asylum.
Nida has not been seen for 38 days despite extensive searches by Gwent Police.