Gerwyn Capon appointed Llandaff Cathedral's new dean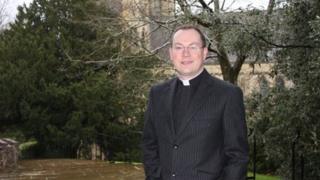 A former commercial property developer and the current chaplain to the Archbishop of Wales is to be the new dean of Llandaff Cathedal.
The Reverend Gerwyn Capon, 48, from Anglesey, replaces the first female dean at Llandaff who resigned last May, just two months into the role.
Archbishop Dr Barry Morgan said he had every confidence that Gerwyn would be an excellent dean and parish priest.
The dean will be installed on 28 February.
Announcing the appointment, Dr Morgan said: "He has been a great help to me and I know he will bring those gifts of tact, strength and commitment to what will be a demanding new role for him.
"He is perceptive and energetic and can be firm and resolute when facing challenges and opportunities."
'Support and encouragement'
Gerwyn said, "To be Dean of Llandaff is a wonderful opportunity for any priest: to have been entrusted by the archbishop to take on this role I take as a great privilege, knowing the responsibilities it carries.
"I have already received a whole lot of support and encouragement from the cathedral community and many of my fellow clergy in the diocese."
Mr Capon first moved to Llandaff as archbishop's chaplain in 2007 and he returned to the role in 2012,
Before ordination Mr Capon worked in the field of property development, a background that was recognised when he worked in the Church of England as an adviser for the Church Urban Fund and Liverpool's Diocesan Advisory Committee.
He takes over the role of dean from The Very Reverend Janet Henderson, 55, became only the second female dean in Wales when she took on the role in March.
She left the post suddenly in May and it has been vacant till now.