Hundreds protest against Merthyr council's cuts plan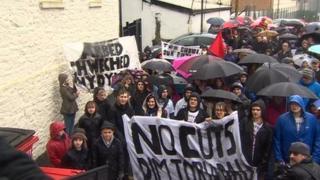 About 400 people have taken part in a protest against Merthyr council's plans to cut services as it aims to save £15.3m over the next four years.
The protest in Merthyr was organised by pupils at Ysgol Gyfun Rhydywaun in Hirwaun, many of whom travel to the school.
They said they were concerned about the impact of the proposed cuts, including their right to a post-16 education in Welsh.
A public consultation ends on Monday.
The council has said that cutting the free home-to-school transport service would save £115,000 a year.
The proposals also include scrapping the meals on wheels service for all but those in need, closing an elderly people's centre, and reducing library opening hours.
Scarce
Students at the secondary school claim the Welsh community that has developed in the school and the area is being ignored.
Morgan Powell, a student at Rhydywaun, said; "These cuts are a threat to the future of our sixth form.
"We feel that the council has targeted the most vulnerable residents with these proposed cuts.
"At a time when money is already scarce, the council intends to force us to pay for a Welsh education.
"There are no Welsh-medium comprehensive schools in Merthyr, so we have to travel to Rhydywaun school.
'Vicious attack'
"Almost half of the school make the trip here at the moment and there's a real danger that we would lose our sixth form and rights to a Welsh-medium education."
The march began at the bottom of Merthyr town centre and ended with speeches in the local Soar Theatre by, among others, author and founder of Cymdeithas yr Iaith (Welsh Language Society), Gareth Miles, and Tom Roberts. of Merthyr Trades Union Council (TUC).
Mr Roberts said: "Today the people of Merthyr proved that they are not going to sit back and watch while the council launch such a vicious attack on local services.
"The battle against these cuts and against all cuts continues."
Earlier this week, Merthyr council's leader, Brendan Toomey, urged residents to take part on the consultation on the 12 proposals that have been put forward for service changes to try to save money.
He said: "We have no choice but to consider all options of how we can save money and unfortunately, this means that there will be a reduction in council services and jobs of those who deliver these services.
"The views of residents and service users will be key in the decision making on how this council delivers their services in the future."