Travel warning for 100,000 fans attending Six Nations and Cardiff City games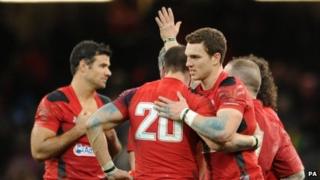 Some 100,000 fans heading to major rugby and football matches in Cardiff are being urged to plan their travel carefully.
Roads have been closed around the city centre as Wales beat Italy 23-15 in the opening Six Nations match at the Millennium Stadium and Cardiff City beat Norwich City 2-1.
Supporters were advised to use public transport where possible.
Park and ride services are operating and there will be extra trains.
For Wales, it was the successful start of another defence of their Six Nations title in front of more than 66,000 fans as they bid to become the first team to win it three years in a row.
The Bluebirds were watched by 27,000 as they managed three points to get them off the foot of the Premier League table.
Road closures around the city centre remain in force until 17:30 GMT.
First Great Western provided eight additional rail services with a total of 4,000 extra seats for passengers travelling to and from Cardiff.
Arriva Trains Wales said only a limited number of extra services would be available after 19:00 GMT.
Those using the rail network were advised to allow plenty of time to catch their train.
Meanwhile, the Welsh Ambulance Service and St John Ambulance were working together to provide extra cover around the two grounds to help people with medical emergencies and who have had too much alcohol.
"There is a link between major sporting events and excessive drinking which, in turn, leads to an increase in alcohol-related calls to the ambulance service," said Mike Collins, director of service delivery at the Welsh Ambulance Service.
"It's easy to forget how much alcohol you have consumed when you're having fun, but while we are dealing with alcohol-related incidents, we could be delayed in treating someone with a more serious or life-threatening condition so please act responsibly when dialling 999."