Cardiff council cuts: Doubts raised over city entertainment venues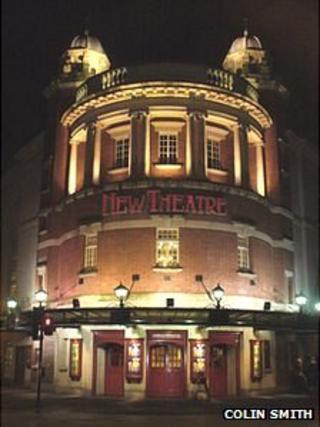 Doubts have been raised over the future running of St David's Hall and the New Theatre as Cardiff council seeks to cut £50m from its budget in 2014/15.
A document released by the authority includes proposals to find outside operators for the venues.
Other options include closing children's play centres and cutting street cleaning and library services.
Council leader Heather Joyce said it needed to suggest "some very difficult things" to balance the budget.
St David's Hall receives an annual subsidy from the council of £1.2m, with the New Theatre getting about £800,000.
The council is exploring the possibility of the Wales Millennium Centre taking on shows currently seen at St David's Hall and talking to Live Nation, the company that operates the Motorpoint Arena, to see if it is interested in running the New Theatre.
A consultation has begun, with the equivalent of 700 full-time jobs across the council expected to go as part of the cutbacks.
The council estimates around £9.2m of the £50m cuts would have a direct impact on the services people use.
There are plans to close play centres in Ely, Grangetown, Splott, Llanrumney, Llanedeyrn and St Mellons.
Centres in Adamsdown and Riverside would remain open, with an equivalent reduction in funding for Welsh language play provision also being considered.
Cardiff Central Library could close on Wednesdays, as part of planned savings of £500,000.
Charges for meals on wheels would increase by £1.40 to £4.20.
Restrictions on overtime for street cleaning teams could mean that after a major city centre event on a Saturday, such as Wales's Six Nation's match against Italy this weekend, the streets would not be cleaned until the following Monday.
During cold snaps, only salting main roads could save an estimated £200,000.
The authority said some savings had already been identified, including a reconfiguration and reduction in grants.
Cabinet members have also pledged to take a 2.7% cut in their allowances.
'No alternative'
Ms Joyce said, "This year we have had to face some very tough choices in trying to set the budget, and everyone has been working hard to try and identify savings that can be made which protect our key priorities as well as minimising the impact on our service delivery.
"But with the scale of the task in front of us we have had no alternative but to suggest some very difficult things as we have to balance the budget, and we have to keep on providing those services which have been prioritised such as education, the vulnerable and increasing opportunities to attract jobs and investment."
The closing date for responses to the consultation is 13 February.
The council's cabinet is due to ratify the proposals a week later which will then go to a vote of the full council on 27 February.