Pye Corner, Newport, railway station plans revealed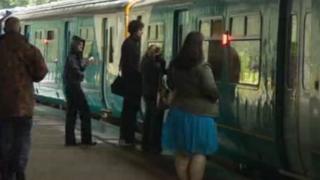 Plans for a new railway station near Newport on the line between Cardiff and Ebbw Vale have been revealed.
Newport council and Network Rail say a station at Pye Corner, near Rogerstone, would allow journeys into Cardiff and in the longer term to Newport.
It would also offer alternative transport into the city for travellers on already congested routes, they said.
But some residents and councillors are worried that the wrong location is being earmarked for the station.
The proposal is part of a project that began in 2008 with the re-opening of the Ebbw Valley line between Ebbw Vale and Cardiff.
Businesses in Newport have long called for the line to be extended to the city over fears they were being overlooked by those in the Welsh capital.
A planning application proposes a station with a single platform, although a second could be added later.
A 62-space car park would be created along with a new roundabout to provide access to the site on Western Valley Road.
'Rushed'
Some residents have raised concerns about the location and time-scale of the project which, if approved, could be completed by the end of the year.
They are also worried about noise and light pollution, increased traffic, and say car cruisers and youths could congregate in the car park.
Chris Evans, a Newport councillor for Rogerstone, claimed there had been a lack of consultation on the plans and said the scheme felt "rushed".
He said he could see the benefits of the station but called for a delay in approving the application.
"We should be working with residents and not against them and let's, at the very least, delay approving this application so that the rights of the elderly and disabled, and the safety of our children, can be properly and positively ensured via sensible discussion," he said.
The Ebbw Valley line is among the south Wales valleys and commuter rail services to be electrified between 2014 and 2019 as part of a £350m investment.
The Pye Corner scheme was awarded a £2.5m grant from the UK government in September 2013 and the Welsh government is adding £1m.
The application is recommended for approval.
It will be discussed by Newport council's planning committee on 5 February.