Cardiff incinerator could heat 20,000 homes via pipeline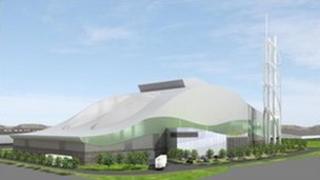 Twenty thousand homes could be heated by pipes linked to a new incinerator in Cardiff.
A district heating network, to be connected to Viridor's Trident Park site in Splott, has been given £245,000 funding from the UK government.
Cardiff councillor Ashley Govier said the 12km (7.4m) pipeline, run by E.On, would help make the city sustainable.
A judicial review looking into whether the incinerator planning process was lawful will take place this year.
The scheme would use energy created by processing waste at the incinerator to heat nearby homes and businesses via a network of insulated pipes.
Mr Govier, Cardiff's cabinet member for the environment, said the project was a "very bold statement" on how the council intended to generate its our own energy and reduce consumption and bills.
Environmental benefits
It would make Cardiff a "truly sustainable city", he said.
"Every city is facing these challenges but with the completion of the Viridor plant we have the opportunity to generate 30 megawatt of electricity and 25 megawatt of heat which is enough to heat around 20,000 homes in the city."
Jeremy Bungey, head of community energy at E.On, said the project could bring savings and environmental benefits to some of the most iconic buildings in the Welsh capital.
"Combined heat and power plants like Trident Park, where district heating is fuelled by waste, are commonplace in nations such as Sweden - frequently listed as one of the world's greenest countries - and could be a model for making British cities equally as sustainable."
The £245,000 was awarded to Cardiff Council under the UK government's heat network delivery unit, set up in September 2013 to promote heat networks.
The incinerator will handle waste that cannot be recycled from homes and businesses in Cardiff, Caerphilly, Monmouthshire, Newport and the Vale of Glamorgan.