Aamir Siddiqi killers Ben Hope and Jason Richards appeal sentence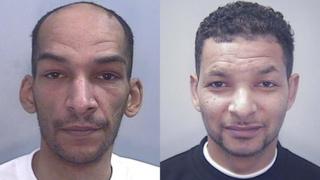 Two hitmen who mistakenly murdered a teenage boy after they targeted the wrong house have launched an appeal against their sentence.
Ben Hope, 40, and Jason Richards, 39, were last year jailed for a minimum of 40 years for killing Cardiff student Aamir Siddiqi in 2010.
Richards has also renewed an application to appeal his conviction.
A spokeswoman for the Judicial Office confirmed a hearing would take place in Cardiff on 12 February.
An earlier application by Richards for permission to appeal against his conviction was turned down by the courts.
Aspiring lawyer Aamir, 17, was stabbed to death on his doorstep in front of his mother and father, Parveen and Iqbal Ahmad, who were also injured in the attack in April 2010.
Hope and Richards' trial heard how the pair had been paid £1,000 to kill another man over an unpaid debt.
But on the day in question the two masked killers, who were both high on drugs, turned up at the wrong address on an adjacent street in Roath.
'Brutal attack'
Aamir answered the door expecting a visit from his Koran teacher.
The pair were found guilty of his murder and the attempted murder of his parents after a four-and-a-half month trial.
Sentencing the pair in February 2013, Judge Mr Justice Royce, said he had no choice but to "significantly increase" the minimum term of 30 years the prosecution had asked for.
"He (Aamir) was awaiting the arrival of his Koran teacher when he rushed past his parents to open the door," he said.
"You two (Hope and Richards) came in, wearing balaclavas and making a terrible wailing sound.
"Your attack on him was brutal, savage, callous and cruel."
He said Aamir was "hacked" to death in front of his parents who were fortunate not to have been killed too as they fought in vain to save him.
"If you die in jail, few will shed a tear and many will say it will be more than deserved," the judge told Hope and Richards.
The Siddiqi family said in a statement after the hearing that they believed the sentences were "appropriate".