Head teacher Jane Vaterlaws made worker 'feel worthless'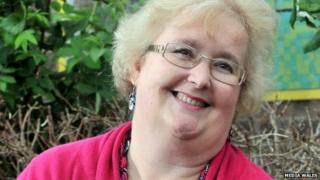 A teaching assistant had a breakdown and an after-school worker resigned because of a "bullying" head teacher, a tribunal has heard.
Jane Vaterlaws's nine-year spell in charge of St Alban's RC Primary School in Cardiff was fraught with problems, a General Teaching Council for Wales (GTCW) panel was told.
Teaching assistant Michelle Thompson said the atmosphere at the school was "horrific".
Ms Vaterlaws has denied the claims.
Michelle Thompson, who still works at the school, told the GTCW panel her life was made a living hell by the head teacher.
She was prescribed anti-depressants and signed off from work with stress.
"There were a lot of incidents where you were made to feel worthless and have no voice," she said.
"The atmosphere at the school was horrific. It got so bad I would cry my eyes out. The threat of being suspended or dismissed was constantly hanging over you.
"She wanted to make you feel intimidated," she added.
Ms Thompson said the school was a much better place to work now Ms Vaterlaws had gone.
Parent protests
After-school club worker Debbie Heppell told the hearing she resigned in protest after a dinner lady was falsely accused of assaulting a schoolboy.
The worker had put a hand on the pupil's shoulder to guide him out of the school hall, she said.
But two boys were coerced into giving false accounts saying they had witnessed the incident and Ms Vaterlaws ordered her to change a written statement stating no assault had taken place.
"I knew then I could not stay at the school any longer," she added.
"Even though I did not have another job to go to I resigned."
Ms Vaterlaws was made head teacher at the school in Tremorfa in 2003.
She left in 2012 citing severe depression while disciplinary proceedings were ongoing.
By this time the school had been placed in special measures by inspectors and a interim executive board took over its running.
During Ms Vaterlaws's time as head teacher, angry parents staged protests about the way the school was being run, the hearing was told.
Among the allegations against her are claims that the confidentiality of two children had been breached when she gave information to their imprisoned father, who was banned from having contact with them.
Another parent was left upset when Ms Vaterlaws threatened to report her to social services after wrongly claiming her six-year-old daughter had drawn a sexually explicit picture.
The former head teacher is also accused of bullying staff and parents and financially mismanaging the school's Parents and Friends Association fund.
The hearing, being held in Ms Vaterlaws's absence, is expected to end on Wednesday.