Chepstow Methodist Church given cash for toilet use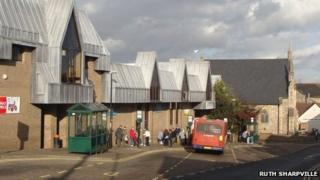 A church which provides its toilets for public use by day - and suffers from public urination at night - has been promised payment for cleaning costs.
Chepstow bus station passengers have long popped next door to the Methodist church to spend a penny.
But the alley between the church and the bus bays becomes a toilet for many after worshippers lock up and go home.
Chepstow council has now agreed to pay the church £250 and aims to open a toilet in the street by April.
The church's site manager Keith Harvey said it was the first time they have asked for money since the toilets were installed 15 years ago.
"They are not supposed to be public toilets," he said.
"The door is unlocked and when it's open anyone can just walk in. And they do. And being next to the bus station there are people who get caught short."
The church is open daily from around 09:00 GMT until the last parishioner or group leaves in the evening, Mr Harvey said.
But some people then use its grounds as a convenience.
Rising costs
He added: "The passageways round the church ways are used as urinals and even worse that that."
It is the rising cost of cleaning materials and toilet paper that prompted the request for money, he said.
He added: "The cost of materials is getting higher and higher. We're just spending so much money that could be spent elsewhere with charities or our other work."
The church had asked for £500 to cover costs but Chepstow Town Council has advised it to claim the remainder from a community organisation.
Town clerk Sandra Bushell said the council had funding three years ago for a 24-hour public convenience in the street but the plans fell through over the issue of land ownership.
"There is clear evidence a public toilet is needed at the bus station," she said.
"There are people who are antisocial and the shops and church in Thomas Street do suffer greatly.
"I have been looking for a potential solution to the problem and we're optimistic it can be in place by the end of April."