Plan to ban smoking in park playgrounds in Newport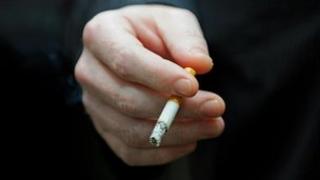 Smoking in park playgrounds in Newport could be banned in a bid to reduce children's exposure to second-hand smoke.
Newport council wants to introduce the ban in 60 playgrounds across the city.
But any enforcement would have to be by self-regulation and not through issuing fixed penalty notices, the local authority says.
Ash Wales said all Welsh councils but Blaenau Gwent have implemented a ban or are in the process of bringing one in.
The proposal comes after calls from the Welsh government urging all councils to introduce smoke free playgrounds in parks.
A report to councillors says 77% of children who were asked said they wanted Newport parks, leisure centres and areas outside schools to be smoke free.
£5,000 grant
Some argued young people have the right not to breathe smoke, while others said they wanted the ban because the habit was bad for people's health.
If agreed, signs to be designed by children would first be displayed in all park play areas.
Proposals to extend it to outside schools and leisure centres will be investigated and considered in the future, the report says.
The signs would be funded by a £5,000 grant from Public Health Wales.
Anti-smoking charity Ash Wales said the voluntary enforcement approach was working across Wales and was helping to change people's attitudes towards smoking.
Caerphilly was the first local authority in Wales to agree the ban in 2012 and the charity said only Blaenau Gwent had not yet started down the process of introducing one.
Councillors in Newport will discuss the proposals on 28 January.