Slavery case: Thomas Doran cleared on Cardiff judge's order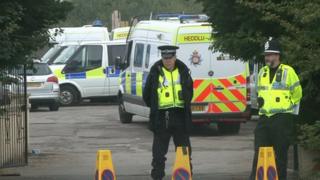 A man charged with his brother and father over slavery offences has been found not guilty on a judge's order.
The prosecution offered no evidence against Thomas Doran, 36, from Shire Newton Caravan Park, Cardiff.
Mr Doran entered a not guilty plea to requiring another to perform forced labour at Cardiff Crown Court.
Daniel Doran, 66, and David Doran, 42, of Peterstone, face the same charge, false imprisonment and conspiracy to hold someone in servitude.
They are due to appear at Cardiff Crown Court on 30 January.
The three men had been arrested and subsequently charged following raids on their farm near Newport last September.