Nikitta Grender murder: Newport home could be demolished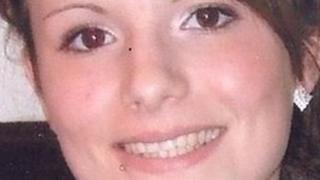 A flat where a pregnant teenager was raped and murdered could be demolished.
The Newport property has been empty for almost three years since Nikitta Grender, 19, was found dead there.
Carl Whant, 28, killed Ms Grender, who was eight months pregnant, and then set fire to the property. He was later jailed for a minimum of 35 years.
Housing association Newport City Homes, which owns the one-bedroom flat, has applied for permission to have it torn down.
The application reads: "Number 51 Broadmead Park has been damaged by fire which resulted in a death.
"As an organisation we have chosen to demolish."
Ms Grender's parents and the father of her unborn child had called for the property to be knocked down.
City councillor Allan Morris said: "I fully support the decision.
"It's been a difficult time but the decision respects the wishes of Nikitta's family and hopefully now the area can move on."
The flat and one neighbouring property would be pulled down later this year and could be replaced by a two-storey house in future.
Ms Grender was found in the burnt-out property in February 2011.
Former bouncer Whant, of Newport, is serving a sentence for murder, rape, child destruction and arson.