Missing dog Chance found after 10 years in Newport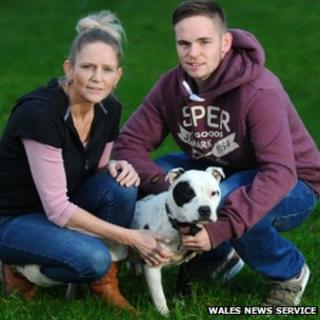 Staffordshire Bull terrier Chance has been reunited with his owners 10 years after he went missing from his home in south Wales.
Owner Julie Coombes from Barry put up posters and appealed on the internet after his disappearance in 2004.
But Chance has only just been found at an underpass 20 miles away in Newport.
Given his age and poor health, he could have been down but vets scanned him and found a microchip which led them to contact Ms Coombes.
But it remains a mystery as to what happened to Chance in the time since he escaped from the back garden of the family home.
"We went to the dog's home and recognised Chance straight away," she said.
"And as soon as we said his name his ears pricked up as if he'd never forgotten us."
Ms Coombes said: "I had a phone call to say my dog had been found. I thought they'd made a mistake because we have two dogs and they were both in the house.
"Then they said it was a black and white Staffordshire - my heart leapt, I knew it was Chance."
'Mystery'
Chance was originally bought for Julie's son, Sion, who is now a 21-year-old criminology student at the University of Glamorgan.
And now the two have resumed their friendship at Sion's Cardiff flat.
"It's crazy - I never thought he would come back," he said.
"His back legs have gone, he's got a few things wrong with him, he's just been really neglected.
"But he's eating well and he loves going out for a walk."
Sion said that rather than dwelling on the past, he is focused on making the most of the future.
"I just want to keep him going as long as possible now. If that's six months, 10 months or two years I want to give him the best life possible," he said.