Park Christmas club savings thief Joanne Jones jailed for 18 months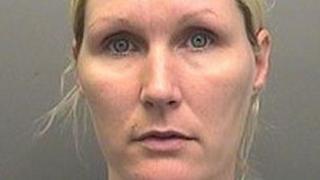 A mother-of-four who stole nearly £8,000 from a Christmas savings club in south Wales has been jailed for 18 months.
Joanne Jones, 36, admitted taking £7,734.90 from 19 people in Treharris at Merthyr Tydfil Crown Court.
Jones, now living in Brixham, Devon, was a Park Group representative and had been collecting regular payments since January 2013.
The judge called her behaviour a "disgraceful breach of trust".
Jones had caused stress and anxiety to the people who took out the accounts, said Judge Richard Twomlow.
He added her clients "were people you knew or family members and their Christmases were seriously affected by why you did".
Families thought their money would be returned in vouchers to buy Christmas presents.
Clare Fear, defending, told the court Jones stole the money to buy drink for her abusive and alcoholic husband.
Jones was also ordered to pay a £100 victim surcharge.
After the hearing, victim Joanne McLean, who lost £900, said: "This caused unbelievable stress for everyone, we're devastated by it.
"She breached our trust, not just the money that's gone but she was supposed to be our friend, we lost somebody that was supposed to be our friend.
"She got what she deserved."
Another victim Sarah Courtney added: "I was relying on all that [money] and I had to save again then. It's a lot for me."
Helena Kinglake, who lost about £230, said outside court: "I felt the sentence was deserved. It was a really close friend, a really close-knit community, we all lived a stone's throw from each other and she broke our trust as a friend and as an agent.
"We're all victims, her children are victims, she's a victim. But at the end of the day she did commit the crime and she got the sentence that she deserved."
Jones' mother, Mary Cassidy, also attended the hearing.
"I had to be there for my daughter," she said.
"I was one of the victims, too... I love my daughter, love my grandkids, I feel sorry for the people of Treharris and I feel sorry for the kids. Joanne put her hands up and that's it."
A spokesperson for Park Group said: "Park cooperated fully with the police investigation and are pleased that it has now reached a conclusion.
"Park makes every effort to help its customers on the extremely rare occasions such as this."