Police continue search for Nida Ul-Naseer in Newport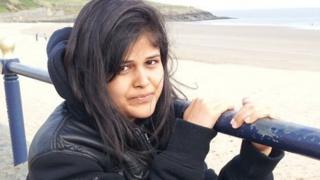 It is two weeks since teenager Nida Ul-Naseer went missing in Newport and police say they are still "looking for clues to where she has gone".
Detectives are continuing to identify areas to search for the 18-year-old, who vanished after taking out the bins at home.
Officers will again search areas around the Transporter Bridge this weekend.
Her family believe she disappeared because their asylum-seeker status barred her from attending university.
A spokeswoman for Gwent Police said: "It's a missing person's inquiry, we're still looking for clues to where she has gone."
The force is looking to gather more information and widen the search for Nida, who has been described as a "model student" at Coleg Gwent, where she was studying business at the Nash Road campus .
Officers have already searched the Transporter Bridge, Lysaght Institute, and Pill Millennium centre in the city.
Ms Ul-Naseer disappeared from the family home in Linton Street on 28 December after taking out the bins at around 20:00 GMT.
She was not wearing shoes and did not have any of her possessions - phone, money or coat - with her at the time.
Her family has appealed for her to come home.
Her sister Shamyla Naseer, 23, described her as a "very religious, very shy and quiet person and very lovely".
The family sought asylum after coming to the UK from Pakistan five years ago. Their application was turned down a year ago and they are currently appealing.
Supt Mark Warrender of Gwent Police said the disappearance was a "mystery".
When Ms Ul-Naseer was last seen, she was wearing jeans and a black top.
She is of Asian-Pakistani appearance and has long dark hair, is slim and 5ft 3in (1.6m) tall.
Gwent Police are asking for anyone with information to contact 101.