Dr Mansoor Kassim sentenced for faking Viagra scripts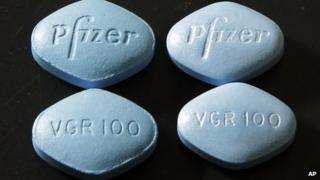 A doctor with "marital difficulties" forged prescriptions for Viagra because he was too embarrassed to see his GP.
Dr Mansoor Kassim, 37, who worked at Ystrad Fawr Hospital near Caerphilly, faked £340.67 worth of scripts, Newport magistrates heard.
He was given a suspended jail sentence after admitting four charges of making a false prescription, two of theft by an employee and one of fraud.
His barrister said Kassim made a significant error and was "ashamed".
Kassim, from Ilford in Essex, received an eight-month sentence, suspended for a year.
The court heard Kassim, who could be struck off by the General Medical Council, took the fake prescriptions for sildenafil, better known as Viagra, to a chemist to collect the tablets himself.
Staff became suspicious because Kassim worked in a trauma and orthopaedic unit, where patients would not normally need drugs for impotence.
Health chiefs brought in handwriting experts who discovered the stolen prescription forms had been filled in by the father-of-two.
The court was told he began forging prescriptions on the second day of his employment at the hospital.
Rob Simkins, prosecuting, said: "The NHS counter-fraud team found theft, forging and fraud.
"It involves a considerable breach of trust by Kassim who was employed by the NHS as a senior doctor.
"He stole prescription forms from the trauma and orthopaedic units. These were forged in the names of ghost patients who did not exist.
"The names of the doctors on the forms were equally fictitious. They were then presented to obtain the Viagra.
'Great deal of shame'
"But suspicions were raised because Viagra would not normally be prescribed by trauma and orthopaedic units."
Some of the prescriptions were discovered during a search of his Range Rover.
The court heard he was a senior doctor who was about to become a consultant when he illegally obtained the drug.
Lee Gledhill, defending, said: "He is ashamed and embarrassed.
"Ordinarily he is a professional with high standards. It was a significant error of judgement in prescribing this anti-impotence drug.
"He comes from a traditional Indian community and his background is really quite prudish.
"It was shameful, given his cultural backgrounds, to be inadequate in the bedroom. He feels a great deal of shame now this problems have been revealed publicly."
The court heard Kassim has received counselling over his "cultural heritage" and now has a legitimate Viagra prescription.
The offences happened between 25 February and 24 October 2013 when Kassim was employed by the Aneurin Bevan University Health Board,
He was ordered to pay compensation of £347 for the Viagra and £2,561 for the cost of the NHS investigation.
Magistrate Alan Penfold said it was "a serious breach of trust".
Martyn Edwards, head of counter fraud with Aneurin Bevan University Health Board, said: "The NHS and the public in general are entitled to expect the highest levels of integrity from clinicians.
"In this instance, the conduct of Dr Kassim fell far short of those expectations.
"The NHS has absolutely no tolerance for dishonest abuse of a position of trust of this nature."