Express bus service for Cardiff Airport under review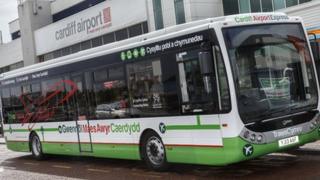 An express bus service to Cardiff Airport is being reviewed, five months after it was launched.
The service runs every 20 minutes between the airport in the Vale of Glamorgan and Cardiff city centre from early morning until late at night.
The Conservatives said the buses were "invariably empty" except for drivers, and the service was "unsustainable".
The Welsh government said the review, to see whether changes were needed, was always intended to be carried out.
The airport was bought by Welsh ministers for £52m in March last year and the bus service is part of the strategy to reverse a slump in passenger numbers.
In a written answer, Transport Minister Edwina Hart said: "It was always the intention to review the service after it had been operational for a few months and the minister has asked Professor Stuart Cole to examine whether any revisions to the current service are required without compromising its principal objectives as an express service.
"Professor Cole is due to report back shortly."
The comments were in response to a question from Shadow Transport Minister Byron Davies.
While Welsh Conservative leader and South Wales Central AM Andrew RT Davies described the service as a "publicly funded ghost train".
"As a local resident I regularly see this bus, invariably empty except for the driver.
"At almost half a million (pounds) in Welsh Labour government subsidy, that's an exceptionally expensive service to support and on current passenger numbers is simply unsustainable."
"Reliable transport links are integral to the success of Cardiff Airport, but at present this route simply isn't providing value for money," he added.
'Chicken and egg'
But Cardiff Business School transport expert Dr Andrew Potter said such services were needed to convince airlines there would be passengers available.
"Airlines planning cycles are such that they're not just going to start routes instantly," he said.
"It's going to take six months (or) 12 months, to attract routes into the airport and, therefore, it's a bit like the chicken and egg.
"You need the bus routes to attract the airlines and you then get the airlines to get the passengers onto the buses."
"At certain times of day you do get more people on the buses anyway, because the flights come in in peaks and troughs, there are busy times and quiet times.
"But you can't have the bus service at the busy times and stop it at the quiet times because you've still got to use the asset somehow, it's still costing you money.
"So you may as well run it for a small number of passengers than have it sitting around, still with the cost."
Dr Potter warned changes to the service, such as making it available for people living near the airport could slow the service down and make it less attractive to air passengers.
"If you look at a lot of other airports, they actually have a mix of services going to an airport, express ones that take you to the city centre and then more local buses, that then feed into that, and serve the local community."