Talks to secure future of Coal Exchange in Cardiff Bay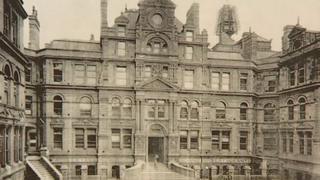 A plan to reopen one of Cardiff's most historic buildings has been unveiled.
The Coal Exchange in Cardiff Bay, once the hub of the coal and shipping industries in south Wales, shut without notice last June for safety reasons.
The 127-year-old venue could be converted into business and residential use.
Owners Macob Exchange, Julian Hodge Bank and Cardiff council will hold talks to discuss the idea.
The council is hoping to work with the owners and bank to secure the building's future.
The Grade ll-listed site has been used for live music and other events over the last two decades and since the hall reopened again in 2009.
Russell Goodway, cabinet member for finance and economic development, said: "The previous attempt by the owner to regenerate the building was hit by the property crash.
"But we are now hopeful that a scheme can be delivered that will save this historical landmark and recover the costs incurred to date by the council, without the need for any further financial investment by the council."