Search for missing Nida Ul-Naseer, 18, to be widened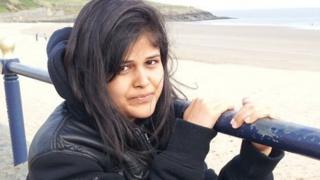 The hunt for missing teenager Nida Ul-Naseer will be widened after a police search of three locations found nothing.
Gwent Police will identify new areas to search for Nida, 18, from Pill, who disappeared on 28 December.
On Tuesday, officers trawled the Transporter Bridge, Lysaght Institute, and Pill Millennium centre.
Nida's family believe she vanished because their asylum-seeker status barred her from attending university.
A spokeswoman for Gwent Police said investigators would identify "future areas to widen the parameters of the search".
Sixth-form student Nida disappeared 12 days ago after taking out the bins. She was not wearing shoes and did not have any of her possessions - phone, money or coat - with her at the time.
At a press conference on Tuesday at Newport police station, Shamyla Naseer, 23, appealed for her sister to return home.
'She was angry'
She described Nida as a "very religious, very shy and quiet person and very lovely".
Ms Naseer explained: "She wanted to go to university. It was not a dispute - she just wanted to go to university.
"Because we are asylum seekers we are not allowed to go to university.
"She was angry about that. She was very sad, she was very angry about her future."
The family sought asylum after coming to the UK from Pakistan five years ago. Their application was turned down a year ago and they are currently appealing.
Father Naseer Tahir, 54, said that as "head of the family" he felt Nida blamed him.
Ms Naseer told the press conference her sister did not have a boyfriend and did not go out with any other friends apart from her sister.
She wanted to go to university and pursue a career as a marketing or finance manager.
Supt Mark Warrender of Gwent Police said Nida's disappearance was a "mystery".
When she was last seen, Nida was wearing jeans and a black top.
She is of Asian-Pakistani appearance and has long dark hair, is slim and 5ft 3in (1.6m) tall.
Gwent Police are asking for anyone with information to contact 101.