Train hero Cardiff City fan John Noctor honoured by club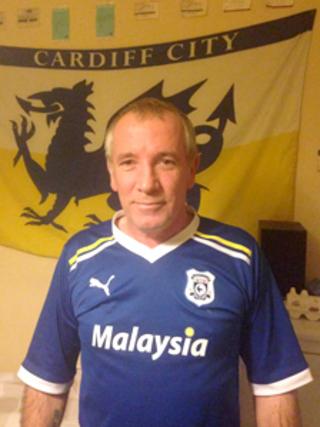 A Cardiff City fan who pulled a toddler from beneath a train will be a guest of club owner Vincent Tan at Saturday's home match against West Ham United.
Bus driver John Noctor was on his way to watch the Bluebirds play Arsenal in London on New Year's Day when a boy slipped from a buggy between the train and platform at Gospel Oak station.
He climbed under the carriage to rescue the youngster while others held doors open to stop the train from moving off.
The club praised Mr Noctor's actions.
"Following the match we were made aware of the brave acts of John on his way to the game," a club spokesman said.
"The behaviour and passion of our fans has been in for some fantastic praise of late and John is another example of this.
"Everyone at the club was touched by his bravery and so we will be inviting him and his family into the chairman's suite for the match with West Ham."
Mr Noctor, 51, from Llanrumney in Cardiff, will also be presented to the crowd on the pitch at half time so supporters can offer their thanks.
But while Mr Noctor is extremely grateful, he is also a bit bemused by all the attention.
"The little boy's safe, and that's all the thanks I was after really. I certainly wasn't expecting all this for a minute. I'd like to think all I did was what anyone would in that situation," he said.
"It's like I've got two lives at the moment. Everyone's trying to ring me for interviews and at the same time I'm trying to get on with my normal life driving a bus.
"It's a lovely thing for the club to have done, and I can't wait to be Mr Tan's guest in the box, but after that I'm looking forward to things getting back to normal."
Mr Noctor's employer First Cymru has also recognised what he did by giving him a company Silver Dragon award which recognises those who go above and beyond what is expected of them.
Steve Davies of First Cymru said: "He really is a hero but in a typical Welsh way, he's very humble about it all."