Cardiff City FC fan rescues child from under train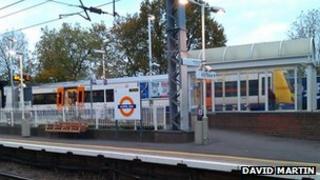 A Cardiff City fan has been hailed a hero after rescuing a toddler from train tracks while on his way to the New Year's Day match at Arsenal.
John Noctor was on a train to the Emirates Stadium when he saw a woman with a buggy struggling to board at Gospel Oak station in north London.
Her child fell down the gap between the train and platform but he managed to lift the toddler to safety.
British Transport Police said the child was not injured in the incident.
Bus driver Mr Noctor told BBC Wales: "I just saw it happen and did what anyone else would have done.
"I could see through the window the woman struggling to get the buggy on and went to lend a hand, but by the time I got there it was empty.
Quick thinking
"I looked around the platform and couldn't see anything, then I heard the crying from underneath the train."
Seeing the toddler beneath the train, Mr Noctor lowered himself onto the tracks, and says that if it had not been for the quick thinking of his nephew then the outcome could have been a lot worse for everyone.
"As I got down there I could hear the doors beeping as the driver was about to move off, but at the time what that meant hadn't really sunk in - I was more bothered about reaching the kid.
"I found out afterwards that my nephew had jammed the train doors and hit the alarm, otherwise it would have moved off.
"Thank God, the kid reached up its hand just as I was bending down so I was able to heave him or her up on to the platform."
'Gone crazy online'
Several online forum postings have suggested that other fans from both sides also left the train to assist, although Mr Noctor was unable to confirm this.
"The story has gone crazy online, but it all happened so quickly that I'm not sure which parts are true and which are just Chinese whispers.
"Other people did get off to help, and a few blokes hauled me and the baby up on to the platform, but whether they were Cardiff, Arsenal or not football fans at all I couldn't say.
"I didn't realise how many people knew about it until I got to the ground and everyone was shaking my hand."
In a statement, police said: "BTP received a report of a child falling from a buggy between the train and the platform at Gospel Oak station on Wednesday, 1 January.
"The incident was reported to BTP at 1.10pm. The child was retrieved from the tracks uninjured."