Plaid Cymru criticises Caerphilly's budget savings plan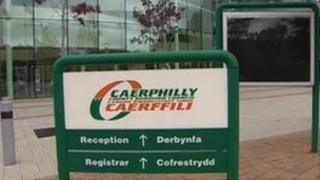 Opposition councillors in Caerphilly have criticised the Labour-led administration's priorities as it aims to save £14.53m next year.
Plaid Cymru councillors have hit out at proposals to charge for dealing with rats, garden waste collection, and hiking sports club pitch hire charges.
The proposals are part of the council's aim to save £28.13m by April 2017.
One of the council's deputy leaders has challenged the Plaid group to put forward its own budget proposals.
Plaid Cymru's regeneration spokesperson Rob Gough said his group questioned the priorities drawn up by council officers.
He added: "Is proposing a £20 fee when people call the council because they have rats in their home or a charge for the collection of garden waste the correct priorities, as well as £25 for all replacement waste bins, even if they are stolen?
"It is also proposed to stop cleaning parks at weekends which could leave empty bottles and cans and broken glass left strewn around on the busiest days for families and children."
'Alternative proposals'
Colin Mann, leader of the Plaid group, said: "These swingeing cuts will hit people in Caerphilly County Borough Council hard and we question some of the priorities drawn up on the environment budget."
The council's deputy leader, Keith Reynolds said: "It's a bit rich of Rob Gough to talk about wheelie bin replacement charges when the previous Plaid Cymru administration introduced the charges in the first place.
"I would like Colin Mann to put forward alternative proposals to make the £14.53m savings in the next financial next year."
Mr Reynolds added that all the proposals had been considered by the council's scrutiny committees.
"It is possible those committees will look at the council's budget plans again before they are considered by the cabinet," he said.
"Whatever happens we have told staff that compulsory redundancies are a last resort."
Council leaders have admitted they face financial challenges but that the authority is in a good position compared to some other councils.
Residents have been consulted on the proposals, with a deadline just before Christmas.
It is expected that the budget will be set by Caerphilly Council by the end of February.