Mauling of Maddison Green, 3, by husky divides family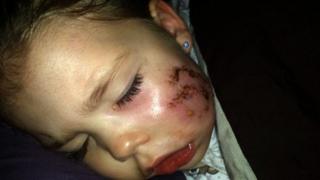 The mauling of a three-year-old girl by a husky has divided a family after the girl's step-grandfather said there is "no point" in putting down his pet.
Maddison Green, of Trebanog, Rhondda, needed 80 stitches in her face after the attack at a house near Newport.
The dog's owner, Dave Sellwood, 41, has allegedly refused to have the animal, Zeus, put down.
Horrified Craig Green, Maddison's father, said: "It could have killed my daughter."
Maddison had a two-hour operation in the Royal Gwent Hospital in Newport to have the stitches in her left cheek following the attack on Saturday.
While she is recovering, a major family row is underway over a loophole in the law which prevents prosecution if a dog attack takes place on private property.
The legal loophole is due to be changed next year.
Maddison had been staying at the home of her grandmother Catherine Sellwood in Coedkernew when she was attacked by Zeus as she was being put to bed.
She has told her father that she had reached out to pat the dog.
Mr Green, of Porth, Rhondda, said: "My stepfather is refusing to put the dog down. He regards it like a child. He has no children of his own but Maddison has been brought up to call him granddad.
"He has told me and my partner that now the attack has happened there is no point in killing his pet.
"But it is totally absurd. The husky could have killed Maddison.
'Hearsay'
"I cannot believe that there is nothing we can do to prevent this dog from attacking again.
"The law should be changed right now. We have to stop this from happening. How can a little girl be injured and no one be held responsible?"
Mr Green and his partner, Cerys Shirley, 24, had left Maddison at the property with their son David, four, and his brother's children overnight.
"When we got the call about what had happened it was horrible", Mr Green added.
"Cerys is devastated, it seems utterly unfair that no one is responsible for this in the eyes of the law."
But Mr Sellwood said: "Craig wasn't even here when it happened, whatever he says is just hearsay. Apart from that, I've got nothing else to say."