Greenpeace protester Anthony Perrett to return to Wales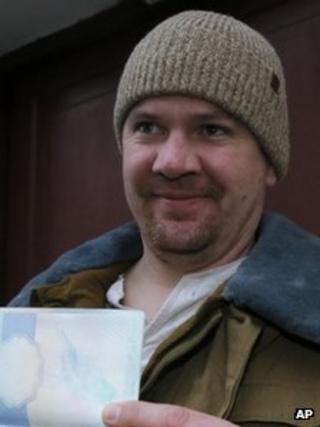 A Greenpeace activist who has been in Russia since a protest against Arctic oil drilling is preparing to return home to Wales.
Anthony Perrett, 32, from Newport, was among the so-called Arctic 30 who were charged over alleged hooliganism.
Greenpeace said charges were being dropped against all of them following an earlier amnesty.
Mr Perrett spent Christmas in Russia but he now has his passport back and a visa allowing him to return home.
Greenpeace said he was the first of the protesters to be granted a visa.
There are also reports Greenpeace activist Dmitri Litvinov, a Swedish-American of Russian origin, was the first to leave Russia after boarding a train to Finland on Thursday.
The protesters were detained after action at an Arctic offshore oil rig owned by the Russian company Gazprom in September.
They were kept in jail for two months.
Mr Perrett, the first of the protesters to be released on bail in November, said getting his passport and a visa from the Russian authorities was "the final step".
"I'll be leaving for home in Wales as soon as possible now, extremely proud of what I did three months ago," he said.
"We took peaceful action to defend a part of the world that is the heartbeat of our climate.
"The Arctic is a measure of our planet's health and I refuse to stay silent as the oil companies line up to profit from its destruction.
"Together we are saying to the oil companies that the Arctic is off-limits and that we must save this beautiful region for future generations."
Mr Perrett was informed on Christmas Eve by the committee investigating possible charges against the activists that legal action against him was being dropped.
He spent Christmas Day with his partner Zaharah Ally, also from Newport, who had campaigned for his release.
He previously told BBC Radio Wales: "I fully intend to carry on the campaign but probably won't be doing anything in Russia ever again - but certainly the campaign won't stop here."
Greenpeace said the non-Russian members of the Arctic 30 were expected to leave the country over the coming days.
"All 30 have since had the case against them dropped after the Russian parliament approved an amnesty decree last week," said the environmental campaign group.
"The 30 benefited from the amnesty without admitting any guilt."