Treharris fundraisers replace part of stolen Christmas savings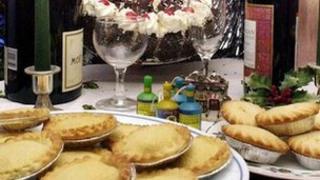 Families who feared an unhappy Christmas after their savings club money was stolen have thanked local fundraisers for coming to the rescue.
People in Treharris, near Merthyr Tydfil, found out in August that weekly payments they had made to a Park Group agent since January hadn't been paid.
Joanne Jones, 36, admitted theft totalling £7,734.90 from 18 people at Merthyr Magistrates Court on Monday.
Local residents have now replaced some of the money.
All families believed they had been making payments to their agent in exchange for vouchers to use to buy Christmas presents.
But Park Group contacted 18 families in the summer when the money went missing and advised them to contact police.
Villagers rallied behind Jemma Thompson, who set up a Facebook group called Give Christmas Back to Treharris.
She wanted those who lost money to be able to give their families something, but never believed they would get such a good response.
They held bucket collections and an event at the Treharris Boys and Girls Club raised almost £500.
"People in general are good and sometimes it just takes somebody to give them a gentle push," she said.
"I don't think they knew that they could really stand up for themselves and say no, I deserve better than this."
Natalie Courtney, who lost more than £350, said she was touched by people's generosity.
Joanne McLean, who lost £900, said she couldn't find the words to express her gratitude.
"You can't thank them enough, they have been absolutely phenomenal. You haven't got words to say for what they have done for us," she said.
Jones has since pleaded guilty to 18 counts of theft with sums ranging from £70 to £1,300.
She was bailed until 13 January for sentencing at Merthyr Crown Court.