Cardiff store Calders shuts days before Christmas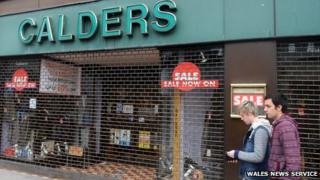 A Cardiff institution - traditional menswear shop Calders - has closed days before Christmas, leaving nine staff out of work.
Workers at the store, opposite the castle, were told on Friday that they had lost their jobs.
The shop is part of the family business owned by Gerald Baron Cohen, father of comedy star and actor Sacha.
Liquidators said there was never a good time to close a business, and an after-Christmas sale was now being planned.
The outfitters closed when an official from the liquidators turned up and made staff hand over their keys and go home.
The workers, some of whom had over 30 years' service, said they had no warning of the closure.
Clothing empire
One employee, who was with the company for more than 10 years, said: "We are all devastated - it has ruined everyone's Christmas."
Accountant Gerald Baron Cohen, 81, ran Calders for more than 26 years.
The family clothing empire was started by Sacha Baron Cohen's grandfather Morris, who grew up in Pontypridd more than 100 years ago.
They opened Baron of Piccadilly in London and Morris Cowan in Newport.
The company bought Calders in the 1960s when the business was already over 50 years old.
The family moved to London before comedian Sacha Baron Cohen - known for comedy characters Ali G and Borat - was born. They have other businesses including accountancy, clothing and computer firms.
Paul Davis, an insolvency practitioner with London-based MHA MacIntyre Hudson, said: "The company went into liquidation formally on Friday, December 20.
"Earlier in the month the directors took the decision that because of the company's financial position, they could not continue business.
"As an insolvency practitioner I advised them they needed to close the shop, pending the company going into liquidation."
Asked about the shop shutting days before Christmas, Mr Davis said: "There's never a good time to close a business.
"But the directors would have been guilty of unlawful trading if they had been allowed to continue trading."