Gypsy site protesters in Newport to fight on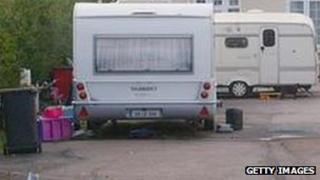 Campaigners against plans to build gypsy and traveller sites in Newport say they will continue their fight despite three plots of land being earmarked.
Councillors voted to include the potential sites in the authority's development blueprint which sets out planning guidance until 2026.
Over 14,000 people objected to the planned sites in Ringland and Duffryn.
The proposals must now be approved by the Welsh government.
Newport currently has no official sites for gypsies and travellers.
Newport council wants to create a residential gypsy and traveller site, with up to 43 pitches, on land at Hartridge Farm Road.
But objectors say it has poor access, would be too big and is too close to Llanwern High School.
They also opposed a separate smaller contingency site at Ringland allotments due to worries about visual prominence and overhead pylons.
Frank Weston, chairman of the Ringland Matters opposition group, said campaigners would continue to fight the plans.
He said he hoped to meet planning inspectors who would scrutinise the local development plan (LDP) next year to voice his concerns.
"We have no conflict with the travellers, our conflict is with the authority," he said.
"We believe there are better sites and having one site for all of them is a recipe for disaster."
New homes
The third potential site is at Celtic Way on Imperial Park, Duffryn.
In August Wales' business minister at the time, Edwina Hart, joined businesses in the Duffryn area to object to proposals for a transit gypsy and traveller site.
They complained it would put new companies off moving there and jeopardise jobs.
All councils have a duty to provide facilities for gypsies and travellers under the Housing Act 2004.
The plans received the backing of full council at a meeting on Thursday, and will now be passed to the Welsh government for final approval.
Also included in Newport's LDP are proposals for up to 11,622 new homes and five major road projects, including improvements at junction 28 of the M4.
The council estimates 7,400 new jobs would be created during the plan's lifetime to 2026.