£150,000 Frampton-on-Severn cable theft: Cardiff gang jailed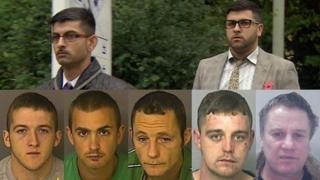 Seven members of a gang who scaled high voltage electricity pylons to steal copper cable worth £150,000 have been jailed.
The gang from Cardiff travelled to Gloucestershire where they cut cable from the live copper conductors on 33,000-volt pylons.
Two of the men were convicted of conspiring to steal cable in a hearing at Gloucester Crown Court in November.
Five other men had pleaded guilty to the same charge at an earlier hearing.
The court heard how members of the gang, made up of brothers Vijay and Umar Chohan, Paul Condick, Nathan James, Liam Murphy, Martin Richards and Stephen Phillip, had travelled to a field at Netherhills Farm in Frampton-on-Severn, Gloucestershire in September 2010 and scaled 30m (100ft) high pylons.
They managed to cut cable from both ends of the live copper conductors on the pylons making off with around 7,000 metres.
It was rolled up and taken back to Cardiff where the gang sold it on.
At an earlier hearing, the court was told how the gang was caught after a police officer became suspicious after talking to people in a van and a car on the night of the theft who had told him they had been rabbiting.
Further investigations were carried out which led officers to ABM Salvage in Cardiff - a business run by Umar Chohan.
He told officers that he had stopped dealing in scrap metal but during their visit a customer called and delivered scrap metal.
Both Umar Chohan and his brother Vijay had denied being involved in conspiring to steal cable but at a trial at Gloucester Crown Court the jury heard how mobile phones records showed several calls had been made on the night of the theft to other gang members - who had already admitted their involvement in conspiring to steal cable.
Judge William Hart told the men: "It was well planned and needed considerable audacity bordering on foolhardiness.
"It did not affect local power supplies, but that was more luck than judgement."
'Dangerous act'
Brothers Vijay and Umar Chohan, from Ely in Cardiff were both sentenced to two years in prison.
Paul Condick and Nathan James from Cardiff and Liam Murphy from Llandough were given 21 months.
Martin Richards and Stephen Phillips, also from Cardiff, each received two-and-a-half year sentences.
After the case Det Con Jon William from Gloucestershire Constabulary spoke about the risks involved.
"It was a very dangerous act. Clearly they had some knowledge of the systems. They had planned, and we found diagrams in their property, and they came with the equipment to carry it out," he said.
Peter Lowe, the security manager for Western Power Distribution welcomed the sentence and said it was a deterrent to others.
"All seven men have lost their liberty. They've got families to support and yes, it sends out a significant warning," he said.